As a fundamental analyst, I'm scratching my head right now.
According to economist Barry Ritholtz, the top 50 non-financial firms have over $800 billion in cash and equivalents on their balance sheets. That's more than the entire 2009 stimulus plan.
And as I'll show you below, stocks look incredibly cheap. But there are a few things you need to think about before you load up. First, let me show you why most fundamental analysts are so excited right now...
According to Thomson Reuters, analysts project that companies in the S&P 500 will earn a cumulative $92 per share in 2011. That's the highest earnings in over 10 years for the large-cap index. More than the bull markets of 2006 and 2007.
Based on these numbers, the S&P 500 is trading at 12 times 2011 earnings as of Friday's close. That's the cheapest the large-cap index traded since the 1980s, according to the chart below.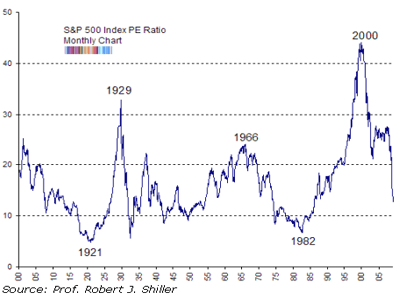 A closer look at the chart suggests every time the P/E ratio has fallen below 10 since 1940, it turned out to be a great buying opportunity.
That's why fundamental newsletter writers across the country are recommending industry bellwethers like ExxonMobil, Pfizer, Hewlett-Packard, and JPMorgan. These companies trade for less than 10 times forward earnings.
Before you buy every industry leader trading below 10 times forward earnings, you need to take a few things into consideration...
Interest rates are at all-time lows. We are seeing government intervention to the point where no large company or country is allowed to fail. Our deficits are at record levels. That means much higher taxes going forward. Lending is tighter than ever. Consumers with good credit can't borrow money. That means fewer dollars will flow into the economy.
This type of structural change in spending is described by Mohammed El Erian as the "New Normal." He is the CEO of PIMCO, the largest bond firm in the world. The New Normal is another way of saying that the past no longer applies.
In other words, maybe it's a bad idea to compare today's valuations with history. I'm not saying ExxonMobil or Intel is expensive at nine times forward earnings. But based on the New Normal, they may not be cheap either.
If you want to buy a true bargain, wait for some of the industry leaders to pull back a little farther from these levels.
Good investing,
Frank