The S&P 500 is the most important stock index in America... and it drives the return of all other stock markets around the world.
This makes the chart below a troublesome one for investors...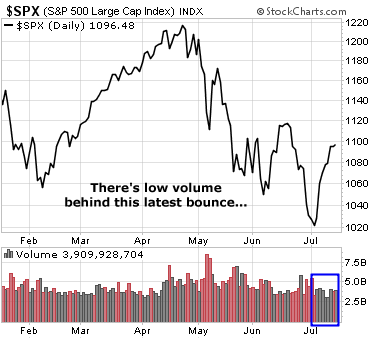 The chart above displays the past six months of trading in the S&P 500... with its trading volume displayed in the "window" at the bottom. Each day's trading volume is marked by a single bar. On days the market declined, the bar is red. On days the market climbed, the bar is gray.
You'll notice that during the April/May selloff, trading volume boomed. It was much higher than the volume in March. This indicated investors were selling stock with much greater force in May than they were buying them in March.
This selling force sent the index from just over 1,200 to under 1,040 in two months. And then, two weeks ago, the market bounced...
But notice the volume on this bounce... indicated by the gray volume bars below the price chart. I've put a blue box around them. The volume behind this bounce is weak, meaning there's very little enthusiasm from the buyers here. This makes me skeptical of this rally.
A healthy market is driven higher by large institutional investors like mutual funds, hedge funds, and pension funds buying big chunks of stock. Their huge buying power shows up in tall gray bars. So far, we're not seeing that sort of buying.
Until we see some serious big money flowing back into the market, I think stocks in general are in trouble.
Good trading,
Tom