What a difference a week makes.
Last Tuesday, investors were staring into the abyss. Stocks had fallen hard for several straight days. Gloom and doom were painted all over the financial headlines. And my answering machine welcomed me back from vacation by playing dozens of fear-induced messages from friends wondering if they should be selling their stocks.
Today, we're right back to sunshine and lollipops.
The S&P 500 has rallied for five straight days. Investors are 6% richer today than they were last week. The financial talking heads are laughing and smiling and celebrating a summer rally. And nobody's calling me at home.
It's time to be cautious.
Actually, it's time to remember how to trade a bear market... buy into severely oversold conditions, sell short when stocks get severely overbought, play only the best setups, and take profits quickly.
Last week, we had about as good a setup as we could get for buying stocks. If you jumped in with me here, take those profits now. Don't try to sell out at the absolute high. After all, when you slap a bear across the face, you don't stick around to get in another shot.
In fact, based on the following chart, it's time to turn and run the other way...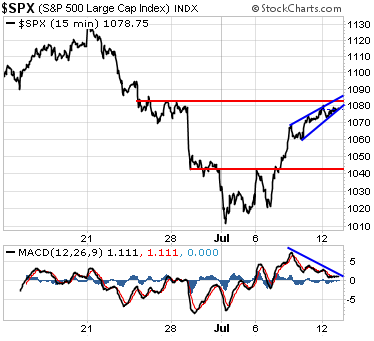 This is a 15-minute chart of the S&P 500. It's a better gauge of short-term market direction than the daily chart, and it's more useful in quick trading environments – like in newborn bear markets.
The S&P is running up into the red resistance line just over 1,080. The blue lines illustrate a bearish rising-wedge formation with negative divergence on the MACD line – a momentum indicator. Basically, that means stocks are going higher but the momentum behind the move is weakening. This is always a caution sign, and it often warns of an impending selloff.
Stocks are overbought. They're bumping into resistance. And they're tracing out a bearish chart formation.
This is the mirror image of what saw last week. To me, it looks like a pretty good short-selling setup.
Best regards and good trading,
Jeff Clark