"I don't see the earnings power in banks."
That's what banking analyst Meredith Whitney said in a Bloomberg interview on May 5.
Last year, banks reported huge profits due to favorable changes in government policies. For example, the government purchased agency paper from banks. This helped ease funding pressures. Then, banks no longer had to assign a current market price for a security ("mark to market") on its books. Instead, they could use "significant judgment" when valuing their illiquid investments.
These one-time events will no longer boost profits for the sector. That's why Whitney is predicting a steep decline in earnings.
Whitney is one of the best banking analysts in the industry. And she deserves credit. Since her call, banks have taken a steep dive.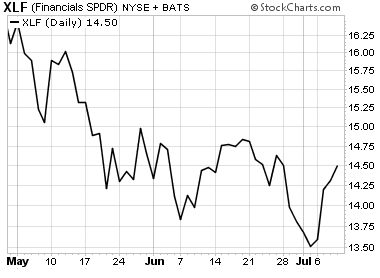 Whitney is even more cautious today. On July 9, she cut her second-quarter earnings estimates on investment banks Goldman Sachs and Morgan Stanley by 64% and 41%, respectively. She said the last three months "was the worst quarter for debt and equity underwriting volume in over a year."
She's not the only one cutting earnings estimates.
Analysts at Sandler O'Neill, Sanford Bernstein, Credit Suisse, and Deutsche Bank have also cut second-quarter earnings estimates for most large-cap financials. In fact, I can't find an analyst in the sector who raised earnings heading into the quarter.
This makes sense given the uncertainty behind the financial reform bill, which is sure to eat into profits. But the last time I've seen such low expectations on this sector was back in March 2009. And the Financial Select Sector Fund (XLF) jumped 100% in 12 months.
Now, I'm not predicting another 100% rally from these levels. But I think the sector is a buy here.
Along with low expectations, several catalysts could push financial stocks higher. For one, interest rates will remain low at least another 12 months. This helps profits. Banks can borrow money cheaply and make loans at much higher rates.
Also, I expect a major uptick in mergers and acquisitions (M&A) over the next six to 12 months. S&P 500 companies are starving for growth. They have tons of cash on their balance sheets. Plus, many companies are down more than 40% since May. That's the perfect recipe for M&A – which generates profits for banks who act as middlemen.
Mortgage rates continue to hit new record lows. In April, the 30-year fixed mortgage rate was over 5%. Today it's 4.69%, the lowest level since 1971. Most industry pundits expect this rate to fall farther. Not only could low rates boost new home purchases, but banks should see a huge increase in refinancing activity.
Finally, banks are at attractive valuations. Bank of America, Citigroup, and JP Morgan are down about 25% since May. They now trade below book value. Goldman is trading right at its book value. It doesn't mean bank stocks can't go lower. But it does imply that risk is limited.
Earnings season for banks starts on Thursday, July 15. That's when JP Morgan reports. Based on the massive pullback in the sector coupled with extreme low expectations, I'd be a buyer here.
Good trading,
Frank