Interest rates were at historic lows entering 2010. Everyone was bearish on bonds. After all, interest rates just had to go higher in order to attract purchasers to fund the ever-increasing deficit spending in the U.S. The "no-brainer" trade of the year was to short bonds.
Indeed, the vast majority of financial advisors and hedge funds were positioning clients to profit on the inevitable decline in bond prices (and subsequent rise in interest rates).
It was a logical trade. It made perfect sense to me. The problem, however, was the trade was just too popular. It was too obvious. Logic dictated interest rates had to go higher and bond prices had to go lower. It was too easy.
Easy trades never work.
The market never lets investors make money on an easy trade. So even though logic dictated otherwise, the sheer popularity of shorting U.S. Treasury bonds meant T-bonds would surge even higher. And they did.
Yields on the 30-year T-bond have dropped from 4.7% at the beginning of the year to just 3.8% as of last Friday. Prices on the 30-year T-bond have surged from 115 to over 131 – a gain of 14% in just over seven months.
That's insane.
But it's a perfect illustration of what happens when everyone lines up on one side of a trade. Logic takes a backseat. Popular trades often capsize under the weight of their popularity. Price action inevitably goes the other way, forcing losing investors to cover at a loss and pay up to get in on the other side of the trade.
Now the popular trade is to buy U.S. bonds. The Fed is beginning a new round of quantitative easing, using principal payments from its mortgage-backed securities to pump up the price of Treasurys. So with the federal government acting to keep bond prices high, investors feel secure buying bonds at current levels.
They're nuts.
The risk/reward setup for buying Treasury bonds at current prices is out of whack. As prices rise, yields fall, and the risk of owning bonds increases.
Think about it... T-bond buyers are putting up $1,000 in exchange for receiving just $38 per year of income. If bond prices merely retreat back to where they were at the start of August, investors will lose 4% of their principal value. That's more than an entire year of interest lost if the bond market gives up two weeks of price gains.
If prices fall back to where they started the year, investors are looking at a loss of nearly 14%, or almost four years of interest. It's hard to justify buying Treasury bonds when you're looking at that sort of risk.
Logic argues against it.
Yet, the buying binge continues. Now, it has reached "bubble" territory. Take a look at this chart of the 30-year Treasury bond...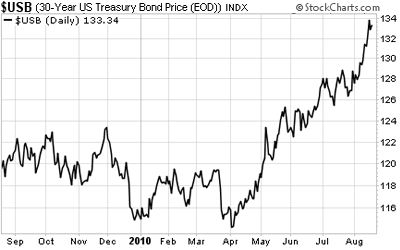 Bond prices have gone parabolic. They're now higher than they were in March 2009, when investors were fleeing the stock market and seeking the "safety" of government bonds.
This bond market rally is going to end badly. And it's going to end a lot sooner than most people think.
Best regards and good trading,
Jeff Clark