Last month, I told you about a huge buy signal I saw in the tech sector...
Some of the biggest names in "cloud computing" were stretching to new highs while the broader sector was hitting the roughest patch it's seen since early 2009.
It's called "relative strength" or, more simply, "acting well." When you've got solid fundamentals behind a stock... and the price action is defying the market's gravity... you're likely to see more good things to come.
So far it's been true for the stocks I told you about in June. While the Nasdaq is down 4%, Salesforce and VMware have both given up a mere 1%. Not bad. But we're seeing even better action from another big tech trend: gene sequencing.
And I think it's part of a big-picture move that will take a small group of stocks up 10% or 20% a year for years to come. I'll explain why in a moment. But first, take a look at this chart: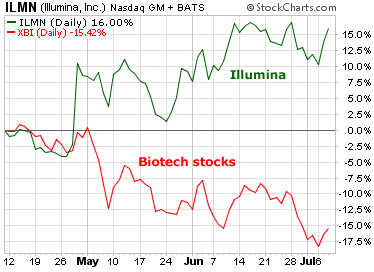 This is a performance chart comparing Illumina (ILMN) to the SPDR biotech fund.
You've probably never heard of it, but Illumina is the biggest name in gene sequencing. And it's trouncing its peers in the biotech sector.
I think a big part of that move is a price cut Illumina announced a month ago. It's cutting the price of its consumer gene-sequencing product from about $50,000 to as low as $9,500.
This is huge.
Using genetic analysis to target and treat diseases is a critical, unstoppable development for health care. Doctors can now diagnose diseases early in their progression, just by looking at your genes and the biomarkers in your blood. And they can even tell, simply by running a few tests, which diseases you are likely to get in the future. Depending on your genetic makeup, doctors will prescribe a treatment specifically for you.
As the price tag on genetic sequencing decreases, the potential to provide the service to millions of people increases. Think about it this way: Apple could sell thousands of iPhones at $1,000 if the company wanted to. Why doesn't it? Because using $200 as the price point guarantees MILLIONS of people will buy them.
So it's no coincidence Illumina's stock is within a couple bucks of a 52-week high. And if you open a long-term chart, you'll see that shares have clawed their way back within striking distance of their summer 2008 all-time highs.
If you haven't looked at this area of the biotech space before, you're not too late. The party is just getting started. The important price declines in gene sequencing are just the first step in changing the entire health care industry... Doctors still don't know what to do with most of the information it provides. That leaves huge potential for increased demand as new applications are discovered.
And right now, the market is confirming the incredible fundamental story. Over the past three months, Illumina's shares have climbed more than 15%... while a basket of biotech stocks has fallen just as far.
No one can say for sure how things will play out in genetic sequencing over the next decade. But I believe the top names in this sector will see gains between 10% and 20% a year.
As you can see in the chart, Illumina has had a heck of a run. Shares trade near $45. I like the stock better at $40, which is possible if the overall market continues its summer swoon. If you're interested in putting some money to work in this trend, start your research here.
Good investing,
Larsen