It's dangerous to be short stocks right now.
Yes, we entered a bear market last week. And yes, stock prices will likely end the year far below where they are today. But as I argued
here
and
here
, stocks are so oversold and investor sentiment is so pessimistic, a bounce is inevitable.
We got the first stage of that bounce yesterday. And based on the look of the following chart, we still have a ways to go...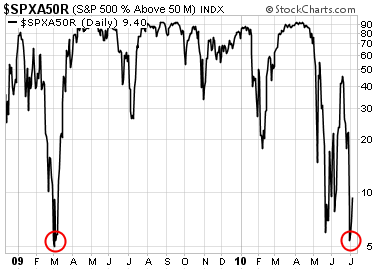 This chart illustrates the percentage of S&P 500 stocks trading above their 50-day moving average – in other words, stocks displaying bullish price action.
Prior to yesterday's rally, fewer than 10% of stocks were in bullish patterns. That's the same oversold condition the market hit when it bottomed back in March 2009.
It's also the same level this chart hit when the previous bear market kicked off in January 2008.
In fact, the parallels to 2008 are eerily similar. Stocks were oversold
when the monthly chart of the S&P 500 dropped below its 20-month exponential moving average
– my favorite indicator for determining bull and bear markets (and something I recently wrote about
here
). Despite triggering a bear market, the S&P 500 rallied more than 8% over the next four weeks and dealt a crushing blow to overly aggressive bears who were hoping to make some easy money betting on the downside.
That's what bear markets do.
Of course, they're brutal to long-term investors who insist on holding stocks in a declining environment. But bear markets also crush traders who try to sell short into oversold conditions.
The biggest "one-day wonder" rallies always seem to occur in the midst of a bear market. They serve to shake out the traders who got a little too aggressive betting on the downside.
There will be plenty of opportunities to make money shorting stocks in the midst of this newborn bear market. There's not much to be gained, though, by shorting stocks when more than 90% of the S&P 500 is already trading below its 50-day moving average.
Be patient. Give this rally a week or two, or maybe more, to run its course. Start nibbling on short positions when the S&P pops up closer to 1,080.
Best regards and good trading,
Jeff Clark