Just a few days ago, I told my Retirement Trader readers about a quick income opportunity in one of the world's greatest businesses.
The business is semiconductor giant Intel (INTC).
You could describe Intel as a $100 billion computer-chip maker. But that description shortchanges how marvelous this business is...
Intel is the dominant manufacturer of the most essential component used in computers. All of the name-brand computer makers – Microsoft, Dell, and Apple – rely on its processors. And nowadays, electronics makers use its chips to improve the brainpower of everything from ovens to garage-door openers.
To get a sense of what a colossus Intel is, realize it controls 80% of the global market for microprocessors. Its nearest competitor, AMD, accounts for just 10%. INTC made $4.3 billion in net income last year. AMD is struggling to break even this year, regularly losing hundreds of millions a quarter.
Other competitors exist, but they can't match INTC for quality, price, or brand loyalty. For all practical purposes, Intel has no competition. It's a virtual monopoly.
INTC is also loyal to its shareholders. It pays an annual cash dividend of 3.2%. It has returned $16 billion in dividends ($8.8 billion) and share buybacks ($7.2 billion), nearly a 5% return year after year to shareholders. It also has invested in the future success of the business. It spent nearly $10 billion a year on research, development, and equipment each of the past three years.
Although Intel has all of these wonderful attributes, you wouldn't know it by asking Wall Street. The stock is trading for just 2.5 times book value, 2.5 times sales, and less than its growth rate at a P/E ratio of 9.4. The company achieves profit margins of 23% and operating margins of 33% – at the level of some of the best businesses ever.
Now here's the income opportunity...
As you can see from the chart below, Intel traded up to $24 a share in May... but has fallen back to $19.50 this summer. This is an area where buyers typically step in to buy cheap Intel shares...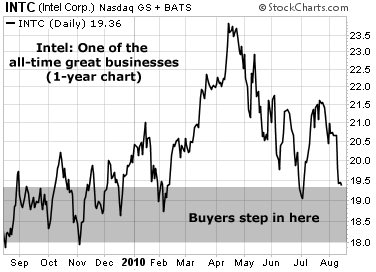 If you're a stock trader, you can buy Intel for a quick pop higher. But there is a much bigger opportunity in Intel options.
Recently we've seen an increase in volatility in the market, which means fatter option premiums. Intel options have plumped up to a level you wouldn't normally find in such a stable company.
Bottom line: There's plenty of fear in the market right now... which is creating huge option opportunities in big blue-chip stocks like Intel. I doubt it will last long, so get moving on this legal monopoly.
Here's to our health, wealth, and a great retirement,
Doc Eifrig