The past 12 months have been rough on Big Oil investors...
The biggest and best-managed oil company, ExxonMobil, is down about 20% since this time last year and currently trades at a new yearly low. French oil giant Total is also down 20%.
Shares in fellow Big Oil players Statoil, PetroChina, and Chevron have largely moved sideways. Even Brazil's high-flying Petrobras – which found billions of barrels of oil over the last few years – is down 16% over the past 12 months.
This oil-sector weakness makes the uptrend in ConocoPhillips (COP) all the more impressive. I recommended this oil major – which counts billionaire investor Warren Buffett as a big shareholder – to
S&A Resource Report
readers back in February 2009. As you can see, its uptrend is holding up amazingly well considering the broad market is down big since May: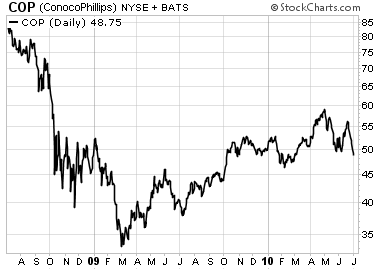 Here's the story behind this impressive price action...
A year ago, while other majors raked in the cash, COP was losing money. The market put yard-sale price tags on its assets. That spurred CEO Jim Mulva to make some huge changes...
This year, COP has been busy slashing costs, divesting assets, and building up cash. That's critically important because the company has about $38 billion in debt it needs to rein in and pay off.
In October 2009, the company announced it would divest $10 billion worth of assets. Since then, it bailed out of two giant projects: the Shah Gas Field in Abu Dhabi and the Yanbu Refinery in Saudi Arabia. (Costs to build the refinery soared from $6 billion to $12 billion. ConocoPhillips' decision to exit is a good one.)
In March, ConocoPhillips disclosed it would sell half of its 20% stake in Russian oil company Lukoil. The shares of Lukoil should bring in about $5 billion. And in April 2010, the company announced the sale of its 9% interest in Syncrude, the giant tar-sand mining company in Alberta Canada, for $4.65 billion.
This is all part of Mulva's plan to put ConocoPhillips on a profitable path. It's cutting back on low-profit refining. Its focus will be on profitable oil and gas exploration... and shareholder value.
In addition to culling its projects, the company's exploration efforts are doing well. ConocoPhillips replaced 141% of its 2009 production of 865 million barrels of oil equivalent. About 30% of that was due to the change in SEC rules regarding how companies report oil sands as reserves.
Dumping the expensive projects will translate into much better earnings for ConocoPhillips. In the first quarter of 2010, it earned $1.47 per share. If the company can keep that up for four quarters, its earnings will be $5.88 per share for the year. That means, right now, we can buy its shares for under 10 times this year's earnings – a bargain. And it offers a nice dividend, too: 4%-plus.
Like most of the industry, ConocoPhillips shares fell with BP's ham-fisted antics in the Gulf of Mexico. However, unlike many companies in the industry, ConocoPhillips is enjoying a nice uptrend. I recommend staying long the stock.
Good investing,
Matt Badiali