You cannot ride a bear.
Rodeo cowboys score points by staying on the bull as long as possible. Investors profit by doing the same.
But a bear is a completely different animal. No cowboy is crazy enough to saddle up and try to ride a grizzly. Yet investors try it all the time – and they get killed.
Bear markets are not for riding. They're for trading. That means you wait for severely oversold conditions before you buy anything. Then you sell when conditions become less oversold.
It's not a buy-and-hold environment. It's a "scalping" environment – you play only the best setups and take profits quickly.
Stocks are now officially in a bear market.
The monthly chart of the S&P 500 closed below its 20-month exponential moving average (EMA) yesterday. The rally from the March 2009 low is over. So
as I wrote on Tuesday
, it's time to sell.
But let's be smart about it.
Short-term conditions are wickedly oversold, and the intermediate-term indicators continue to point to a bounce. Rather than sell into violent downside moves, it's smarter to wait for the inevitable bounce and use that strength to cash out of long trades and enter a few short trades.
As you can see from the following chart, stocks usually do bounce hard at the beginning of a bear market...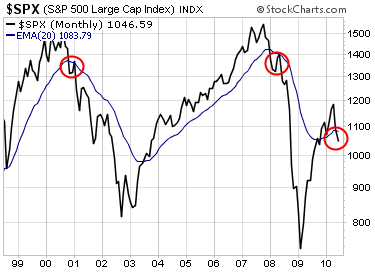 The bear markets that began in late 2000 and early 2008 both experienced bounces where the S&P 500 rallied back up to test the breakdown level of the 20-month EMA. I expect something similar to happen this time as well – before a much more serious decline takes hold.
Of course, it's OK to sell now, too. After all, stocks are likely headed much lower by the end of the year. Just don't be surprised if they work higher over the next month or so.
Best regards and good trading,
Jeff Clark