Here's what I wrote in my trading journal on August 7, 1987...
What a miserable day. Stocks opened lower on bad news, and my short sales were finally starting to pay off. Just as I was feeling good about things and relaxing a bit, the market reversed, bolted higher, and closed at the high of the day.
I got shelled, again.
Everyone in the office had a good day. They keep after me. "You have to get in," they say. "Being short is going to wipe you out."
But no one can give me a good reason as to why I should be buying stocks, other than I have to own them because they keep going up.
I just don't trust it. Today was another low volume summer rally. I'm frustrated as he** being short. But it's the only position that makes sense to me.
Oh well. Time to carry my bruised butt and my underwater short positions out of here for the weekend.
Maybe next week will see some selling.
That was 23 years ago. But I could have just as easily written it last Friday.
Back then, stocks drifted higher for a couple more weeks before finally topping and beginning the downtrend that ended with a spectacular crash on October 19, 1987.
It is, however, reflected in the bond market – where interest rates keep falling to new lows as investors lend money at remarkably low rates.
Look at this chart of the 30-year U.S. Treasury Bond...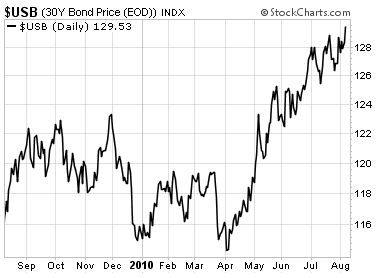 The long bond is up 20% since April. Investors are currently willing to lend money to the U.S. Treasury for 30 years for just 4%.
Usually, as stock prices go up, bond prices fall. Investors shun the safety and security of the Treasury market in favor of potentially higher returns in stocks. There have been, however, a few notable times in history when it didn't quite work this way.
Stocks and bonds rallied together and peaked at the same time in March 2000. They also rallied together in the spring and summer of 1987. Neither of those was a good time to be overly exposed to the stock market.
Now is probably not a good time, either.
Best regards and good trading,
Jeff Clark