Something stinks.
Yes, this has been an amazing rally. No real surprise there. As we pulled into the end of August, we knew the market was setup to clobber the bears. Investor sentiment was negative. Stocks were oversold. And self-help guru Tony Robbins was warning of impending doom.
That was a great time to go the other way and bet on the bull for a quick, "snapback" rally.
What we've seen, however, is more like a rocket launch. The S&P 500 is up nearly 10% in just two weeks. Stocks have gone from viciously oversold to wildly overbought. Nearly every sector is participating. And yesterday, the S&P 500 broke out and held above the widely watched 1,130 resistance level.
Take a look...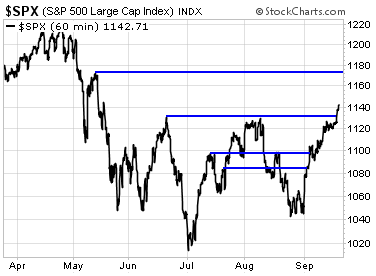 The next resistance level is another 30 or so points higher at about 1,170. So the bulls are gearing up for even more upside.
But something doesn't smell right. Healthy markets don't move higher in a straight line. That, however, is what's happening. Investor sentiment usually takes months to go from one extreme to the next. Lately, though, sentiment surveys have been flopping around like a trout in the bottom of a fishing boat. And the stock, bond, and commodities markets rarely move in the same direction at the same time. But yesterday, everything moved higher.
Price action is bullish. And the chart above looks like stocks are indeed headed higher. But I'm getting that uneasy feeling. You know the kind... like when the waiter at the neighborhood bistro is a little too aggressive pushing the fish special.
Buying stocks today is likely to lead to an upset stomach.
A better strategy may be to wait for the market to work off its overbought condition and perhaps for the S&P 500 to come back down and test the 1,130 level again. If the market can hold above that while the technical indicators back off from their extreme levels, we may have a good buy-side setup.
On the other hand, if the S&P 500 crosses back down below 1,130, stocks will be right back inside their summertime trading range, we'll be headed for more downside action, and today's buyers will be left with a bad case of indigestion.
Best regards and good trading,
Jeff Clark