It's been a rough two months for Research in Motion (RIMM).
On June 24, stock in the manufacturer of BlackBerry smart-phones fell sharply after the company reported weak second-quarter results. Sales, phone shipments, and new subscriber growth fell short of consensus estimates.
(It happened to be the same day millions of people lined up to by Apple's new iPhone.
The stock rebounded along with the rest of the market in July. But at the end of the month, more bad news hit the wires. On July 31, the United Arab Emirates (UAE) said it would block BlackBerry's e-mail and messaging services starting in October. The Middle Eastern country doesn't like that encrypted data sent on BlackBerry phones is moved abroad. In other words, it can't be monitored for illegal activity.
Lebanon and Saudi Arabia are also considering banning BlackBerry's services due to security risks. As you can see from the chart, the stock has fallen 10% since the story broke.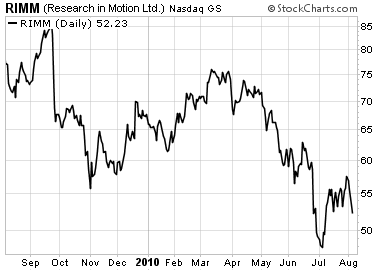 Investors are giving up on what was once their favorite growth company. If you're thinking of doing the same, there are a few things you should know...
If the United Arab Emirates and RIMM do not come to an agreement, the company stands to lose less than 2% of its earnings. That's if all BlackBerry users in the UAE discontinue service. Lebanon accounts for an even smaller percentage.
RIMM will also launch its new BlackBerry phone (called Torch) on August 12. So far, the reviews have been positive. More important for today's shareholder, the new BlackBerry was originally scheduled to be released next quarter. That means sales of this hot product are not factored into this quarter's estimates.
AT&T, which will sell the phone, is launching a $100 million national TV, print, and online ad blitz. In a matter of weeks, most people living in the U.S. will know all about the Torch. That should boost sales in the short term.
At the current price, RIMM trades under 10 times next year's earnings. Earnings are expected to grow more than 26% over the next 12 months. In April, the company said it will buy back 2 million shares. Finally, RIMM has a strong balance sheet with almost $3 billion in cash and no debt.
Altogether, RIMM has plenty of short-term upside and limited downside. Even the analysts who have sell ratings on RIMM (including Goldman Sachs) have target prices higher than current levels.
I wouldn't sell today. In fact, I suggest buying on this pullback.
Good investing,
Frank