The bulls got it.
The monthly chart of the S&P 500 closed above its 20-month exponential moving average (EMA) on Friday. That's bullish action. And it negates the bear-market signal that occurred on June 30 – when the S&P closed below its 20-month EMA.
Here's the chart...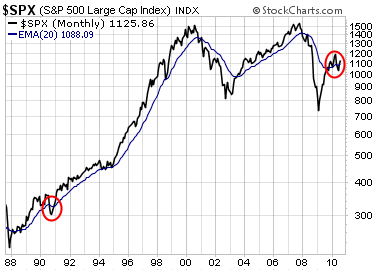 This marks the first time since late 1990, when the U.S. was preparing to kick Iraq out of Kuwait, that the bear was forced back into hibernation in just one month.
The bear market signals in late 2000 and early 2008 led to dramatic declines in stock prices. I expected we were in for something similar this time around, too. Based on yesterday's action, it appears that won't be the case.
At least, not yet.
It's hard to give up on the bear case. After all, global economies are a mess. Unemployment is high. Government, corporate, and individual debt burdens are out of control. And everything just seems, well, bearish.
But when it comes to the stock market, price action trumps everything else. And right now, the price action is bullish.
Yes, it's possible the chart will flop back into bear-market territory by the end of August. The S&P 500 only needs to lose about 2% from yesterday's closing price to do so. Whippy moves like that are unusual, though not out of the question when most of the volume in the market comes from
high-frequency trading
and algorithm-based computer programs. Nonetheless, if you trade on the basis of technical analysis, you have to respect the current signal.
Of course, that doesn't mean we abandon all common sense and jump into the market with both feet. Stocks are extended here. They're overbought. The S&P 500 is up 10% in one month, and it can use a break.
It didn't make sense to sell or short stocks into oversold conditions early last month when the above chart
first flashed a "sell" signal
. It also doesn't seem too wise to be aggressively buying stocks right now.
Perhaps the best strategy for August is to take a cue from the "big time" Wall Street traders, who took off for the Hamptons last weekend...
Relax. Take some time off to get away from the pressure. And come back in September.
Best regards and good trading,
Jeff Clark