Last week, the price of silver exploded to a 30-month high... and continued an interesting trend in the commodity markets. The trend is: "precious metals up, energy prices not so much."
While many folks look at the commodities market as one big asset class, it's actually a motley collection of raw materials that trade on their own merits. You simply can't make generalized bets and expect to come out ahead on such diverse things as gold, coffee, copper, oil, uranium, and corn.
This brings us to the incredible strength in silver, which recently blasted from $18.50 per ounce to nearly $20. This move has left silver with a year-to-date gain of 17.5%. And it's in stark contrast to the action in crude oil... which is languishing below its 200-day moving average, a common yardstick to determine if an asset is in a bull or bear trend.
This weak action has left crude oil with a year-to-date loss of 5%. You can see the difference in the performance chart below: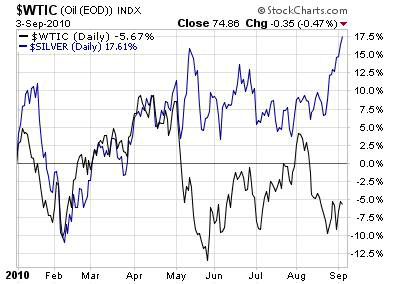 What's going on here? People are paying up for wealth insurance in the form of precious metals right now... And they're less interested in assets that depend on strong global economic growth.
While silver has certain industrial uses, it is seen as "poor man's gold" and is enjoying heavy demand from folks interested in buying actual, hard money. The oil market is well-supplied right now, and the U.S. economy isn't booming... which has left oil drifting lower in 2010.
For commodity investors, this is a big trend to watch. Ignoring it could leave you heavily invested in oil stocks, which are struggling right now, and leave you without gold and silver stocks in your portfolio.
One of my favorite plays on a strong silver price is Silver Wheaton (SLW). Silver Wheaton doesn't operate mines itself. Instead, it invests in lots of early stage silver projects and earns royalties when they start producing. This makes it a leveraged play on higher silver prices.
As you can see from the chart below, it's had a spectacular run. My S&A Resource Report readers are up more than 215% on the stock.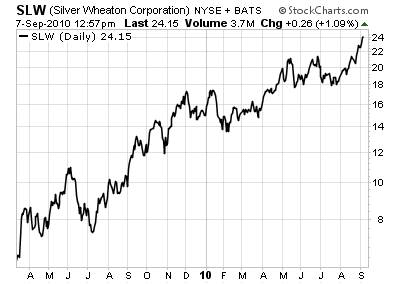 I'm not bearish on oil. I still recommend owning some carefully selected oil and natural gas stocks for the long-term. But you can see it's in a weak trend... while silver (and gold) are in solid uptrends.
Bottom line: If you're interested in making 100% gains in a matter of months, make the trend your friend and favor gold and silver stocks.
Good investing,
Matt Badiali