In the past two months, there's been a big difference between what folks think "should" be happening in the commodity markets and what actually "is" happening.
It centers on the copper market.
While you can barely watch a minute of financial television without hearing about horrid unemployment numbers, gloomy sentiment toward stocks, or weak manufacturing numbers, the price of copper is actually surging right now.
As we frequently mention in Growth Stock Wire and on our sister site DailyWealth, copper is one of the world's vital infrastructure ingredients. It's in nearly everything around you... from cars and plumbing to computers and appliances. This makes the price of copper rise and fall with the health of the global economy.
During the 2008 credit crisis, copper suffered an incredible 66% fall. Investors were terrified to own anything dependent on a healthy economy. Like most assets, after the crisis passed, copper enjoyed a huge rebound. This rebound stalled out in April and even looked to be in danger back in June, when the metal hit an eight-month low.
But note the big rally to the far right-hand side of the chart below. Copper has staged a rebound from $2.80 per pound to its current price of $3.48, near its bull market high around $4. This is incredible price strength that all investors should take notice of...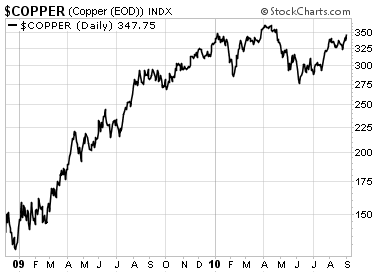 I believe an investor or trader should form a fundamental view of things - but always mind what the market is saying and test that view against what's actually happening.
A lot of investors out there believe that the global economy is in terrible shape... that we're due for another round of recession. They have some good reasons to lean this way (two big ones being government debt and government debt).
But no matter how bearish you are, you have to note copper's extraordinary strength right now. It simply cannot stay this strong in a sick economy. As long as the metal is trading near these all-time-high levels, the market is saying there's plenty of building and manufacturing taking place.
In today's volatile market, copper's super strength could change quickly. But we have to respect what the market is telling us right now.
And right now, it is saying one of the world's vital building ingredients is near a multiyear high. This means you should avoid making too many trades betting the economy is going to tank... and lean toward the bullish side of stocks.
Good trading,
Brian Hunt