After a 30% haircut in just over two months, natural gas is once again the cheapest commodity you can invest in right now.
Natural gas is the "clean cousin" of crude oil. It's a major source of fuel to heat and cool homes. We also use it to produce plastics, chemicals, fertilizers, and electricity. I like the commodity long-term as a government-approved, tree-hugger- endorsed alternative to coal-fired power plants.
As I've detailed many times in Growth Stock Wire, the U.S. is in the midst of a natural gas supply glut. Over the past decade, new drilling and production techniques have
opened up the shale frontier
and brought enormous new supplies online. This has crushed the price of gas over the past few years... and has led me to label the $3.50 area for gas "
the new cheap
." This is where end-users consider gas a terrific bargain.
Back in the spring, I recommended buying
natural gas royalty trusts
as a way to earn income on cheap natural gas. As you can see from the chart below, the commodity was beaten down into the $4 area. Natural gas soon "popped" into the $5 range and took many natural gas stocks with it.
That "pop," however, has turned into a big decline... and natural gas is now back to super-cheap levels around $3.75. This is once again a chance to buy natural gas stocks.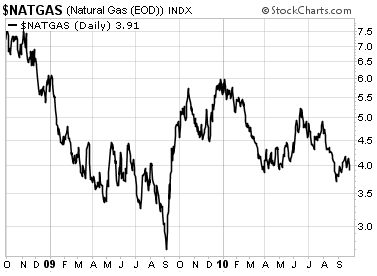 Exploration companies aren't going to pay you much in the way of dividends, but they offer high upside if natural gas prices pop... and they offer the upside of a big discovery.
Companies like Southwestern Energy (SWN), Range Resources (RRC), and EnCana (ECA) generally track the price of natural gas. These companies are beaten down... and have the potential to rise a quick 25% if natural gas simply gets "less bad."
Good investing,
Matt Badiali