Get ready for some volatility.
It's option-expiration week for October. In and of itself, that should be more than enough to create wild swings in the market.
But we're also going to be treated to a host of important earnings announcements. Intel announces earnings after the close today. JPMorgan unveils its results tomorrow morning. On Thursday, we'll hear from Google and Chase after the close.
So the potential for volatility is huge.
The market, however, doesn't see it that way.
The Volatility Index (VIX) – the option market's best tool for pricing in potential volatility – closed yesterday at its lowest level in six months, since just before the "flash crash." Take a look...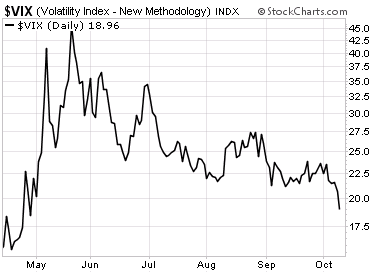 Lots of folks will look at this chart and think, "Investors are too complacent. The VIX is low, it's time to go." That's a familiar theme... A low VIX indicates a lack of fear in the market and, from a contrarian standpoint, suggests the market may be ready to fall. It is an idea I subscribe to.
But there's a bigger idea here...
No matter if you're bullish or bearish, speculating just got cheaper.
A low Volatility Index means the price of options, both puts and calls, is low. So the risk of speculating is less, and the odds favor being a buyer of options.
For example, Intel closed at $19.63 per share yesterday. The INTC October 19 calls closed at $0.75, and the INTC October 20 puts closed at $0.65. A bullish trader could buy the calls and need the stock to rally only $0.13 between now and Friday in order to turn a profit.
Bearish traders could buy the put option and need only a $0.30 drop.
Last quarter, Intel shares gapped almost $1.20 higher in reaction to its earnings announcement. So the chance of a big move in reaction to today's announcement seems higher than the options are pricing in.
That's true of Intel... and it's true of many of the companies announcing earnings this week.
It doesn't matter whether you're bullish or bearish on stocks here. With option prices this cheap, it could be a great week for speculators.
Best regards and good trading,
Jeff Clark