Stocks are going higher in the short term "no matter what."
This is what David Tepper said on CNBC last Friday. Tepper founded of $12 billion hedge fund Appaloosa Management. He has one of the best track records for picking stocks. His reasons for being bullish include a better economy – or further stimulus by our government if the economy weakens.
In other words, if economic statistics like housing and manufacturing trend downward, Tepper believes the government will adjust monetary policy to boost stocks. Tepper is not the only person bullish on equities. In fact, almost every analyst or portfolio manager I know believes stocks should be bought at these levels.
I do see the bullish argument...
If you believe the analysts' forecasts, the S&P 500 is trading at just 12 times 2011 earnings estimates. With stocks at such "cheap" valuations, some fundamental analysts are predicting a huge amount of money will flow from expensive bond funds into stocks.
From a technical perspective, stocks also look attractive. The S&P 500 is tracing out "higher highs and higher lows." And the NYSE advance/decline just hit an all-time high.
The advance/decline line measures the number of individual stocks reaching new highs (advances) and new lows (declines). It usually takes time to reverse. So if more stocks are hitting highs, it suggests the trend will continue in the short term.
Also, the S&P 500 just broke above its 200-day moving average – a widely followed gauge of bull and bear markets – and hit a four-month high.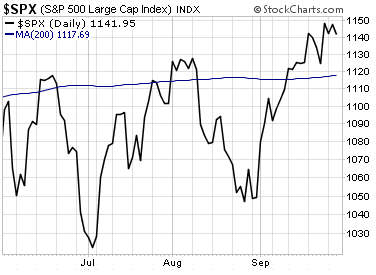 Despite the positive fundamental and technical landscapes, I'd avoid buying stocks today.
For one thing, the S&P 500 is up almost 10% in less than a month. To put this in perspective, it's the best September for the major index in more than 70 years.
More importantly, companies will begin reporting third quarter earnings next week.
Being long stocks as we go into earnings with such high expectations is a death wish...
Let's take Adobe Systems (ADBE) for example. The software giant is one of the few tech companies that has already reported earnings. Like most of the industry, shares were in a huge uptrend. In fact, the stock price jumped nearly 25% in a month before the company reported earnings on September 21.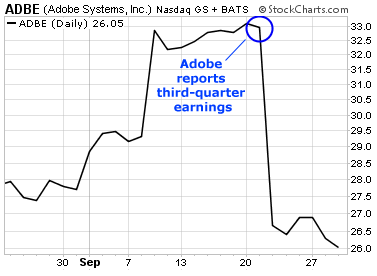 As you can see from the chart, earnings did not live up to expectations.
Shares collapsed 20% after management reported slightly weaker-than-expected guidance. The same can be said for mattress maker Sealy (ZZ) and greeting-card manufacturer American Greetings (AM). Both stocks got hammered on September 29 after reporting disappointing earnings.
My point is simple. Expectations for stocks are sky-high right now. If earnings disappoint even by the slightest, some stocks could fall more than 10% in a day.
To avoid these huge pitfalls, I'd wait until after earnings season to buy stocks. You will get a clearer view on a company's financials and outlook. And you won't have to worry about buying stocks that are already up 25%, heading into an earnings call with a blindfold on.
Good investing,
Frank Curzio