Everyone should be happy. The market just had the best September in decades. So far, October is looking great.
If you thought gold was heading higher, you were right. If you thought stocks were a good buy on September 1, you were right. Heck, even those who thought Treasurys were a good buy (yielding 2.5% at the start of the month) were right!
The only thing that hasn't gone up is the U.S. dollar. It's down nearly 8% since the start of September.
Take a look...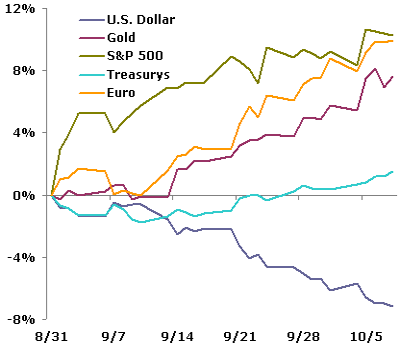 Long-term trends, like the dollar's demise, can last for years. But there are inevitably bumps in the road – "corrections." They usually happen when everyone has jumped on one side of a trade. As you can see by the chart above, the entire market has run screaming from the U.S. dollar. That's a good sign of an imminent bounce.
And that bounce is going to be a big problem for anyone who's too far on the long side in any other asset. Just look at recent history...
The U.S. dollar was in a similar tailspin from May to early August. Then it bounced 3% in one week. During those same five days, the S&P 500 dropped 3.8% and the euro plummeted 4%.
The August dollar rally lasted about three weeks. During that time, the S&P sold off more than 6% and the euro dropped 5%. (The only bright spot was gold, which managed to gain almost 3% during that period.)
The dollar rally ended almost exactly on August 31. Stocks and the euro have taken off since. Now, it's time for at least a temporary reversal... and time to take a few cautious bets.
I love stocks over the next year or more, but the S&P will take a hit on any dollar strength. The ProShares UltraShort S&P 500 fund (SDS) goes up 2% for every 1% the S&P falls. It's is a great hedge against your longer-term holdings.
Another option is to short the euro here. The euro panic may have peaked in May, but Greek and Irish banks are far from being fixed.
The euro is up 10% vs. the dollar since August 31. And traders have jumped on the long-euro trade. Friday's commitment of traders report shows that there are almost three times as many bullish bets on the euro vs. the U.S. dollar right now.
That's almost the exact same ratio of bullish to bearish bets as during
the first week of June
, when the euro hit bottom just below $1.20. Back then, 75% of traders were betting in favor of the dollar and against the euro. Since then, the euro has soared to $1.40.
It has been a great six weeks for, well.... everything but the dollar. Now is a good time to set up some defense against the inevitable dollar rally.
Good trading,
Larsen