We often warn our readers of the impracticality of the "two and 20" most hedge funds charge their clients... That is 2% of total assets and 20% of any gains. This fee structure guarantees the fund manager gets paid regardless of performance.
For example, a manager with $1 billion under management earns $20 million just for walking in the door on January 1. And the 20% "kicker" encourages excessive risk.
A recent article in the British newspaper the Telegraph quantifies how damaging "two and 20" is to the investor using Warren Buffett's historical returns. An excerpt from the article is below:
As you are aware, Warren Buffett has produced a stellar investment performance over the past 45 years, compounding returns at 20.46 per cent per annum. If you had invested $1,000 in the shares of Berkshire Hathaway when Buffett began running it in 1965, by the end of 2009 your investment would have been worth $4.8m.
However, if instead of running Berkshire Hathaway as a company in which he co-invests with you, Buffett had set it up as a hedge fund and charged 2 per cent of the value of the funds as an annual fee plus 20 per cent of any gains, of that $4.8m, $4.4m would belong to him as manager and only $400,000 would belong to you, the investor. And this is the result you would get if your hedge fund manager had equaled Warren Buffett's performance. Believe me, he or she won't.
So, $1,000 invested alongside Buffett earned you $4.8 million over the past 45 years. That same $1,000 invested with Buffett while paying "2 and 20," earns $400,000. I know the numbers seem unbelievable, but it shows you the power of compounding.
A few weeks ago, Steve Sjuggerud recommended a sleepy oil and gas trust company – Texas Pacific Land Trust (TPL). It was a "plain vanilla" recommendation, as the trust does one thing:
collect royalties on its oil and gas properties
. That's all. It then uses the proceeds to buy back its own shares. So the share price is directly linked to the price of oil and the rate of share buybacks.
Steve did some basic number crunching and determined that, because of the buyback ratios, over time the stock would be a great investment. Nothing fancy... nothing risky... and nothing that should have upset anyone in the slightest. But boy, did it...
Some rabid, half-crazed short seller got a hold of Steve's research and... well... it looks like he lost his mind. He started shorting the stock heavily (according to various Internet accounts). And he started attacking Steve personally on various message boards and via e-mail. A subscriber alerted us to what was happening... and we could only stand back and watch with amazement.
The more this guy attacked Steve and shorted the stock, the higher it went – time and time again. Apparently, people trust Steve a lot more than some crazy message-board short seller. The result was one of the most vicious short squeezes we've ever seen. Steve was recommending the stock at less than $30... but it eventually broke $44. Take a look...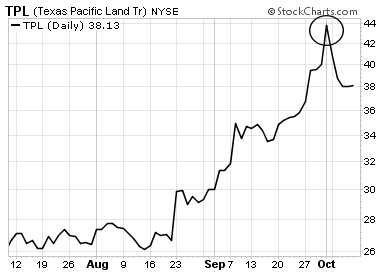 This kind of rapid, high-volume move in a sleepy Texas land-holding company doesn't make any sense... unless someone is being forced to buy back the stock he sold short. Ouch!
Of course, Steve's subscribers have gushed about the pick...
"Thank you for the TPL recommendation. I am up 33% in about two weeks or so!" – Paid-up subscriber Gabe Goodman
"Texas Pacific Land Trust up over 40% in less than 2 months. Unreal, thanks for this gem!" – Paid-up subscriber Joe Kiener
What does Sjuggerud say about the furor? As usual, he keeps his cool:
My original advice still holds. TPL is a buy at less than $30. It's now around $40 – a 33% gain. Look, this is not a stock to chase or trade... Remember, this is a boring, illiquid land trust that simply holds land in the West Texas desert.
Your return on TPL is all about two things: 1) your entry price and 2) holding it for compounding because of buybacks. The math works by buying at $30 or less. So again, the original advice remains buy for less than $30 and hold for triple-digit returns. While I'm not a trader, I sure couldn't blame you if you pocket a 33% gain in six weeks on Texas tumbleweeds.
Regards,
S&A Research