On Wednesday, one of Wall Street's darlings had a terrible day.
Shares of Equinix (EQIX) fell 32% after the company reported weaker than expected earnings results. Equinix is a data center leasing company. It helps its customers save money while outsourcing the location of their servers.
After blowing away earnings estimates quarter after quarter, the company said it needed to provide discounts to its customers to secure long-term contract renewals. This is a fancy way of saying its business is becoming "commoditized," and its growth is slowing.
Investors ran for the exits.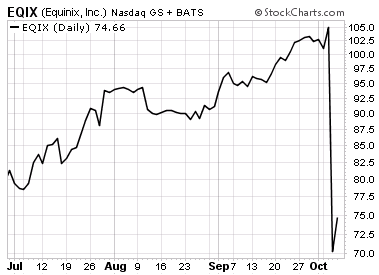 Four sell-side research firms downgraded Equinix following earnings. The other 17 analysts covering the company lowered estimates, including Stifel Nicolaus – who placed the company on its "Select List" one week before the earnings announcement.
We saw a similar trend two weeks ago
. Software maker Adobe Systems lowered its earnings estimates for next year. Like Equinix, shares surged into its quarterly earnings report. After results fell short of expectations, the stock plummeted 20% in one day.
There are several other expensive technology companies I'm cautious on...
| | 2011 price to earnings | 2011 price to EBITDA | 12-month gain |
| --- | --- | --- | --- |
| Salesforce (CRM) | 73X | 38x | 94% |
| Amazon (AMZN) | 45x | 23x | 77% |
| Netflix (NFLX) | 42x | 20x | 238% |
| F-Five (FFIV) | 35x | 20x | 178% |
If earnings announcements from these companies do not live up to expectations, they could also sell off in excess of 20%.
You are probably familiar with most of these names. They are mentioned on CNBC every day. They are also trading near 52-week highs. Gains over the past 12 months range from 94% to 238%. The S&P 500 is up only 8% in the same timeframe.
What you may not know is, these stocks are trading at more than 35 times next year's earnings. Yes, earnings do matter!
Many investors have tried shorting these stocks in the past. The result has not been pretty. My advice is not to short – since the short ratios on these particular stocks are very high. In other words, any good news could result in a short-squeeze, pushing shares considerably higher.
Instead, I suggest you take your profits and run. Here's why...
Listed in the second column in the table above is each company's price to next year's EBITDA ratio. EBITDA stands for earnings before interest, taxes, depreciation, and amortization. It's also a measure used by buyout specialist.
In the large-cap space, buyouts usually happen at prices between 10 and 12 times EBITDA. For example, Intel is buying internet security firm McAfee for 11 times next year's EBITDA ($7.7 billion). Six months ago, oil services giant Schlumberger paid 10 times 2011 EBITDA ($11 billion) for competitor Smith International.
This multiple could be higher depending on the company, its patents, and its technology. However, the companies mentioned above are trading at more than 20 times next year's EBITDA. Keep in mind, takeovers are offered at a premium... If one of these companies were to receive a takeover offer, it would have to be much higher than 20 times EBITDA.
Looking at the potential risks vs. the rewards, it doesn't make much sense owning any of these companies into earnings season. These companies are already expected to beat earnings estimates. If earnings fall short of estimates, you may lose more than 20% of your investment in 24 hours. In fact, even if one of these companies fell 20%, it would still be considered expensive.
After a great run, I think it's time to cash in on these high-flying names.
Good investing,
Frank Curzio