The Weekend Edition is pulled from the daily Stansberry Digest. The Digest comes free with a subscription to any of our premium products.
If there's a better way to get the government on your side as an investor, I haven't seen it...
Longtime Stansberry Research readers know Dr. Steve Sjuggerud has guided his subscribers to massive gains by following his "
Bernanke Asset Bubble
" thesis. Following the 2008-2009 credit crisis, the Federal Reserve launched a huge effort to stimulate the economy with low interest rates and easy credit.
The Fed's goal was to boost stock and real estate prices while stimulating business- and consumer-loan growth. Steve saw this stimulus coming... and for the past six years, he has urged readers to own stocks and real estate. Steve has repeatedly said the Fed stimulus would create soaring stock prices and recovering housing prices.
You probably know how this story has played out. By following this "script," Steve's True Wealth readers have made more than 440% in health care stocks... 160% in tech stocks... and nearly 145% in Berkshire Hathaway, which is a giant bet on American business. More than a dozen times in 2010, 2011, and 2012, Steve told us all to buy homes. U.S. home prices have recovered... and recently hit a seven-year high.
But the most extraordinary gain Steve guided his
True Wealth
subscribers into is in Blackstone Group (BX). It has proven to be an incredible way to let the government make you rich.
Blackstone is a giant investment firm. It takes in investors' money and invests it into private companies, hedge funds, loans, real estate, and any other opportunity it finds.
In late 2012, Steve urged his readers to buy shares of Blackstone. He called it "a great way to play housing through the stock market." At the time, Blackstone was taking advantage of the depressed housing market to buy thousands of homes across America. In 2012, it bought more than $1 billion worth of houses. It bought more single-family homes that year than any other private or public company. It turned itself into a leveraged bet on a recovery in U.S. housing and business.
Steve expected Blackstone's investment gains would allow it to pay 10%-plus annual dividends... and provide investors with triple-digit capital gains. The potential gains Steve cited sounded crazy at the time... But as it turns out, the only thing crazy about this position was not buying it.
Since Steve's recommendation, the Fed's E-Z Credit plan has sent Blackstone's investment portfolio soaring. The stock has climbed from $13.52 per share to $41 per share (a 232% gain). Just yesterday, shares hit an all-time high. The chart below tells the story...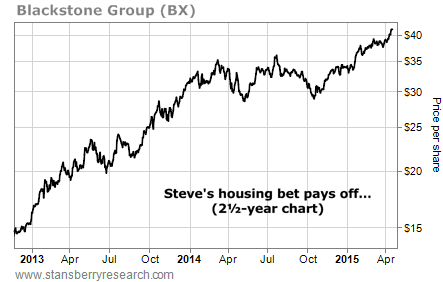 But there's an amazing story this chart can't tell you. It's the story of how much
True Wealth
subscribers are earning in annual dividends from their initial Blackstone investment. Due to the gains made in its investment portfolios, Blackstone has increased its annual dividend from $0.52 per share in 2012 to $2.12 per share over the last 12 months.
This tremendous dividend growth means True Wealth subscribers are now earning an incredible 15.7% yield on their shares.
Think about that... a safe 15.7% yield, paid by one of the world's best companies.
It's one of the great secrets of investing at work...
Buy a high-quality company at a cheap price. Let it grow its dividend so much that the day-to-day stock market action is nearly meaningless. Why care about a 7% correction in the Dow Jones Industrial when you're earning 15.7% a year in dividends? Why worry about this-or-that GDP report when you're cashing huge dividend checks?
For years, Blackstone has been a simple way to profit on the Fed's all-out attempt to push up asset prices. It has been an ideal way to invest in Steve's "script" that called for booming stocks and real estate. And now, it's a money machine for those who took Steve's advice and purchased shares in 2012.
I spoke with Steve this week about Blackstone. He expects a lot more upside in the shares. Trading at a forward price-to-earnings ratio of 11 and yielding 5% based on trailing dividends, Blackstone is still an attractive investment at these levels. (Remember, Steve's subscribers enjoy a 15.7% yield because they bought at lower prices.) Yield-seeking investors will likely pour a lot more money into the stock.
What is the next investment that will climb more than 100% and throw off huge yields to investors who buy today?
Steve believes it's a series of investments outside of U.S. stocks
. This investment is near all-time levels of cheapness (it's much, much, much cheaper than U.S. stocks)... plus it pays a large and safe dividend. Steve conservatively estimates its upside potential at 100%-plus over the coming years. It will one day be the next big winner in Steve's extraordinarily accurate "script."
True Wealth
subscribers can read all about it in the March issue.
As I mentioned last week, I believe a subscription to
True Wealth
is
the greatest deal in all of financial research
.
Over the past 15 years, Steve has made a string of incredible investment calls. He urged people to exit the tech stock market in 1999, just before it collapsed. He urged subscribers to buy real estate stocks in 2001, just before they entered a historic bull market. From 2003 to 2005, Steve urged readers to buy gold, gold stocks, and natural resources. Gold soared hundreds of percent after Steve's recommendation... and natural resources climbed more than 100%.
As I mentioned last week, there's simply nobody better than Steve at sizing up the entire investment market and finding huge opportunities. When I say "there's nobody better," I don't just mean there's nobody better than Steve in the investment-newsletter industry. I mean there's nobody better than Steve at big-picture analysis in the hedge-fund industry, high-net-worth asset management, or at top Wall Street firms. There is nobody better than Steve... anywhere.
Instead of working at a huge bureaucratic firm, Steve writes True Wealth for the individual investor. Steve has proven to tens of thousands of readers that you don't have to take big risks to make big returns. The average annualized gains of Steve's recommendations from 2001 to 2013 are 16.8%... which is amazing when you realize the returns have been achieved with a diversified set of recommendations that involve much less risk than the average investor takes.
Many people pay tens of thousands of dollars for research like you find in True Wealth. Financial advisors will charge you large annual fees that can go into the tens or hundreds of thousands of dollars.
True Wealth – the advisory with an extraordinary track record of nailing big trends – normally sells for just $99 a year. That's less than $2 per week. You probably spend more on coffee. It's laughably cheap for what you get: ideas that are worth millions of dollars.
But right now, you can take us up on an even better deal and get started on a risk-free trial subscription to
True Wealth
for just $39. If you're not satisfied after four months, we'll refund you 100% of your money. To come on board as a
True Wealth
subscriber – and get the next phase of Steve's "script" working for you today –
click here
.
Regards,
Brian Hunt