Forget about OPEC deals. Forget about inventory reports. Forget about war in the Middle East.
If you want to profit by trading oil, you need to pay attention to just one thing... volatility.
As we saw from last week's 14% rally, the price of oil is volatile. It often moves 3%-4% in a day. And it can swing 20% or more in a month.
That sort of volatility can lead to huge profits if you know how to trade oil the right way – or painful losses if you don't.
Today, I'm going to show you my favorite indicator for an oil trade...
Take a look at this chart of the CBOE Crude Oil Volatility Index ("OVX") along with its Bollinger Bands...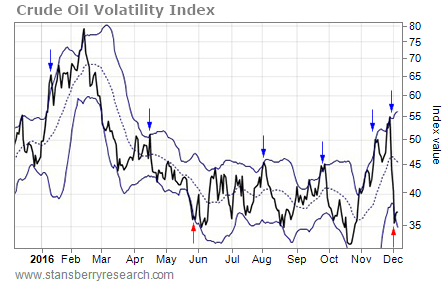 Similar to the stock market's Volatility Index ("VIX"), the OVX provides "buy" and "sell" signals when oil pops outside of its Bollinger Bands.
Bollinger Bands measure the most probable trading range for a stock or an index. When a chart pokes outside of its Bollinger Bands, it indicates an extreme move – one that is likely to reverse.
On the OVX chart, buy signals occur when the index rallies above its upper Bollinger Band and then falls back below it. We've had six buy signals this year, which are shown by the blue arrows on the chart.
Sell signals happen when the OVX drops below its lower Bollinger Band and then rallies back above it. Those signals are marked by the two red arrows on the chart.
Here's how the price of oil behaved following each of those signals...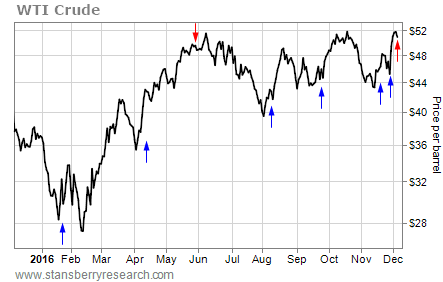 All of the buy signals (blue arrows) came at or near important lows in the price of oil. Traders who bought oil on those buy signals could have profited every single time.
The sell signal (red arrow) in late May was a little early. It came about one week before the price of oil peaked. Traders who shorted oil on that signal would have been underwater for a few days. But that trade would have paid off well as the price of oil fell 20% over the next two months.
On Tuesday, the OVX chart triggered its second sell signal of the year.
Based on the accuracy of the previous OVX buy and sell signals this year, traders should expect lower oil prices over the next few weeks.
Best regards and good trading,
Jeff Clark