In most cases, bad news about a company will send the stock price down.
But that wasn't what happened last Tuesday when Plains All American Pipeline (PAA) and one of its employees were indicted for their roles in an oil spill last May near Santa Barbara, California.
Instead, the master limited partnership's ("MLP") units closed up about 1.5% that day at $25.31. And for the week, they were about even.
The market wasn't fazed by the news about Plains All American. That's because something else is driving MLP prices up today...
Instead of trading on the headlines, MLPs generally move in line with oil prices.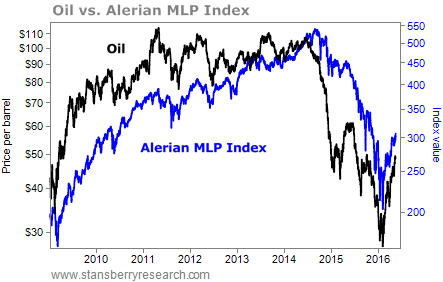 The seven-year chart above shows the price of West Texas Intermediate crude oil against the benchmark Alerian MLP Index, which currently holds 43 MLPs and has a market cap of $280 billion.
As you can see, oil and MLPs don't follow each other exactly, but their movements do correlate. Changes in oil prices affect MLPs shortly afterward.
Oil has been moving higher recently. The price bottomed at just more than $27 per barrel in February and trades at about $48 today. That's a jump of more than 75% in about three months. And MLPs have moved right along with oil prices. The Alerian MLP Index has gained almost 50% over the same period. Again, it's not an exact parallel... but the trend is up.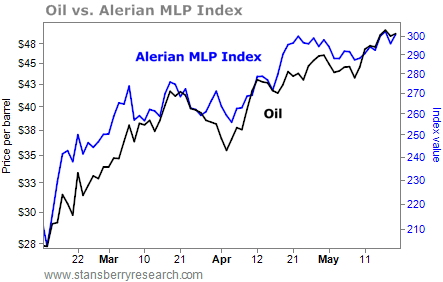 Using history as our guide, we think MLPs will continue to move higher with oil prices.
Oil's recent rally has shaken off other potential negative news, too...
There were rumblings last Wednesday that the U.S. Federal Reserve may raise interest rates next month. If this happens, it should have a negative effect on oil prices.
You see, oil is priced in U.S. dollars. If the currency strengthened on higher interest rates, it would take fewer dollars to buy a barrel of oil.
But the market didn't worry too much about that piece of negative news. After falling a meager $0.79 per barrel on Wednesday, oil closed higher on Thursday. And on Monday, it closed at more than $48 per barrel.
There are enough other worries in the world to drive up oil prices right now – like production woes and
the wildfires in Canada
that have cost more than 1 million barrels per day – that the market is discounting the potential actions of the Fed.
And events going on in Nigeria right now are even more troublesome... Oil majors Royal Dutch Shell (RDS-A), Chevron (CVX), and Eni (E) have all confirmed attacks on their pipelines and energy assets in the country. The violence has led the companies to evacuate personnel... and production in Nigeria is at multiyear lows.
The African nation produced more than 2.4 million barrels per day in 2005. Bloomberg reported in April that daily production had fallen to slightly less than 1.7 million barrels. Unfortunately, violence is nothing new in the Niger Delta, a prolific energy region in the country... but recent problems have been more serious.
Oil production is down in energy powerhouses like Venezuela and the U.S., too. Bloomberg reports production in Venezuela is likely to fall at least 100,000 to 200,000 barrels per day going forward. The country is rationing power in its most populous states to conserve electricity. U.S. oil production peaked at 9.6 million barrels per day in July of last year. The country has recently produced 8.8 million barrels per day.
All of these events are removing oil from the world market, which is driving prices up right now. As long as this trend remains and oil prices keep rising, the MLPs will continue to climb despite the negative press, too.
Good investing,
Brian Weepie