If you're looking for a short sale today, check out U.S. Treasury bonds.
Two weeks ago, I pointed out that the iShares 20+ Year Treasury Bond Fund (TLT)
had been hit with a sledgehammer
. It was oversold and likely to bounce in the short term.
But after that move higher, I said that traders should expect TLT to hit the ground again.
Now, we have our second chance to take advantage...
Take a look at this one-year chart of TLT...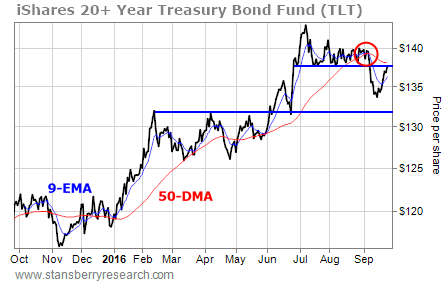 TLT sold off hard earlier this month when it broke down from a consolidation pattern. It fell through the support of its 50-day moving average (DMA) – the red line on the chart – and plunged 4% in just a few days.
At the same time, its nine-day exponential moving average (EMA) – the blue line on the chart – crossed below its 50-DMA. This "bearish cross" increases the chances that TLT has entered an intermediate-term correction phase.
U.S. Treasury bonds should move lower over the next several weeks – and possibly months.
Traders should take advantage of rallies up toward obvious resistance points to increase their short exposure on U.S. Treasury bonds... And that type of move just happened.
TLT faced oversold conditions following its steep plunge earlier this month. At its low, it traded 3.6% below its 50-DMA. This chart rarely strays more than 3% from the line before bouncing back to retest it. So the recent bounce off oversold conditions is typical.
Now, though, TLT is bumping up against the resistance of its 50-DMA and the previous support line at about $138. This is an ideal spot at which to take a short trade.
Aggressive traders can short TLT right here near $138. If shares keep moving higher, and therefore negate the bearish pattern, we can stop out of the trade at about $139 and take a small loss of $1 per share.
On the other hand... if resistance holds and TLT reverses lower, the downside target is the next support line just below $132.
So by shorting TLT at $138 and using the recommended stop loss, you'll have $1 worth of risk versus $6 of potential reward. That's a pretty good setup for a short trade.
Best regards and good trading,
Jeff Clark