The best-looking trade setup in the market today is in copper.
From a risk-reward perspective, buying copper right here at $2.09 per pound offers limited risk and plenty of potential reward.
Let me explain...
Back in June, copper traded for $2.10 per pound and
the chart had just turned bullish
. At the time, copper had broken out to the upside of a bullish falling-wedge pattern. And we were looking for a move up to the next resistance level at about $2.28 per pound.
That's exactly what happened. Take a look...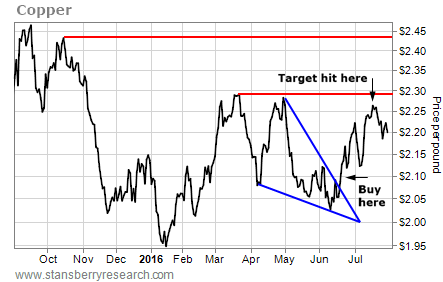 It took only one month for copper to reach our price target. Traders could have made 7% on that trade in just one month.
Today, we have a similar opportunity. Here's another way to look at copper right now...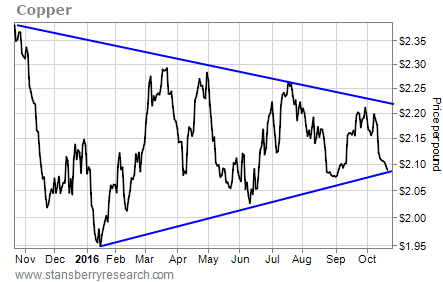 As you can see, copper has made a series of lower highs and higher lows – forming a large triangle on the chart. This is a consolidating pattern, which helps to build energy for the next big move.
There's still plenty of room inside the pattern for copper to chop back and forth for a couple of months before it breaks out of the pattern, one way or another. But with the price of copper sitting right on its support line, this is a low-risk area for traders to step up and buy the metal.
Traders who buy copper right here at $2.09 per pound can set a tight stop on the trade at $2.07. If the support line doesn't hold and copper breaks down from here, traders can exit the position for a small loss.
On the other hand, if the support line holds and copper bounces from here, it will likely move back up toward the resistance line at $2.22. That would be a gain of more than 6% from Friday's closing price.
By buying copper right here, traders are risking $0.02 in order to make $0.13. In other words, this trade has six-and-a-half times more reward than risk.
That's a good setup for a trade.
Best regards and good trading,
Jeff Clark
Editor's note
: Copper isn't the only metal that Jeff is bullish on today. In the long term, he believes gold could lead to big gains for investors. This year alone, he has made more money on the precious metal than he normally makes investing over a nine-year span. Today, he's willing to share his secret. But you better act fast.
The deal is closing tomorrow
. Get all the details
right here
.