Europe's financial troubles are dominating world news...
Greece is the most troubled economy in Europe. Its government is deeply in debt and it has been trying to slide out of its financial obligations. Over the weekend, Greece and its creditors met to discuss the situation. It ended badly for Greece. The European Central Bank (ECB) did not give Greece the funds it needs to operate and repay its debts.
Short on euros, Greek banks shut their doors through next Monday. ATM withdrawals are limited to €60 (less than $70) per bank account per day. The country's stock market is closed through Monday, too.
The Eurozone is one of the world's largest, most important economic unions. And although the Greek economy is a relatively small part (it makes up less than 2%) of this union, a Greek exit would be a damning indictment of its structure... and it might lead to other countries leaving the union as well.
European stocks are down 5.4% over the last two days. Other stock markets around the world are down, too.
The Greek situation – and how it plays out – is a major issue that will affect the market this year. So below, we'll share our thoughts on how it will play out. But first, let's cover what this means for European stocks...
In May, we suggested owning European blue-chip stocks through the
Euro STOXX 50 Fund (FEZ)
. The fund tracks the Euro STOXX 50 Index... which includes multinationals like British consumer-goods firm Unilever, French health and beauty product company L'Oréal, and Belgian beer maker Anheuser-Busch InBev.
In many cases, European blue chips are cheaper than their U.S.-based counterparts... And they pay larger dividends. (FEZ paid 3.2% over the past 12 months.) So we like the idea of having exposure to these stocks as part of a diversified portfolio.
Greek stocks aren't included in the Euro STOXX 50 Index. But for the next couple weeks, we can expect volatility throughout European markets... And that includes the large companies in this index (and FEZ).
This
does not
mean you should close your open trades. We expect European stocks to rise after the dust settles. So we suggest keeping your Europe trades open. Just be sure to use a stop loss – a predetermined price at which you exit the trade. This will limit your downside, in case we're wrong. (You can learn more about stop losses
here
.)
As you can see in the chart below, even with the recent drop, the big trend in European stocks is up.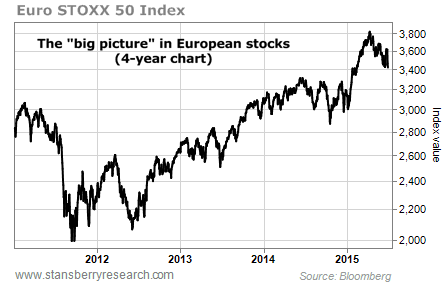 The Greece issue does not change our bullish thesis on European stocks. It's just noise in the bigger picture...
The ECB has promised to do "whatever it takes" to improve the economy. Right now, it's lending money at low interest rates and printing massive amounts of cash to buy government bonds.
Similar policies in the U.S. resulted in a stock market boom, higher home prices, and employment growth... And European politicians are hoping for the same.
We believe the Greek situation will be resolved with Greece staying inside the Eurozone. The parties involved will find a way to keep the current Eurozone intact. The alternative is a financial crisis that will harm all of the Eurozone members.
Despite any bluster you read in the financial newspapers, European politicians desperately want to keep the Eurozone intact. It's a union they've spent years and years building. A member leaving would likely be a big "PR" disaster, as well as a financial disaster.
Having said this, we can't know the future. Crazy things happen in the market from time to time. Greece and the rest of Europe could let their disagreement lead to disaster.
But we don't expect that this would have a lasting impact on European stocks. Germany's economy, which accounts for 20% of the Eurozone, is on much more stable footing than Greece's. The economies of the U.K. (which makes up 16% of the Eurozone) and France (15%) are in far better shape, too.
As with any trade, we have to be prepared for the worst-case scenario. That's why we have stop losses in place in case we are wrong.
However, as we said, it's likely the politicians will find a way to keep things together. It will involve more actions that, in the end, will provide monetary stimulus and send European stocks higher. We recommend you stay long Europe...
Regards,
Brian Hunt and Ben Morris